ISTH 2020 Virtual Congress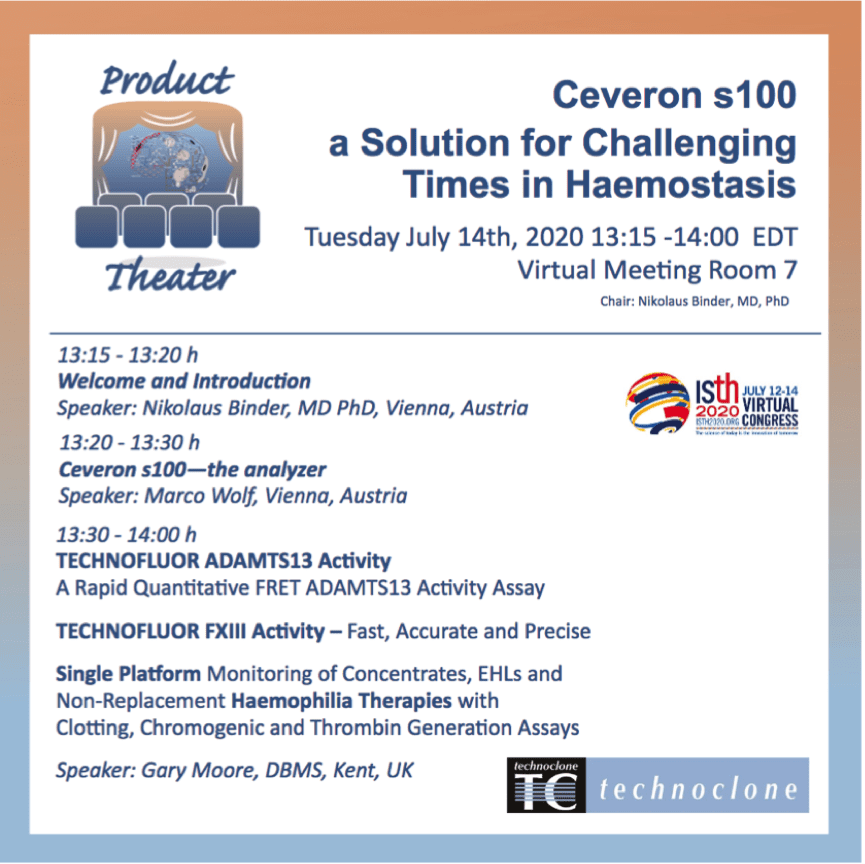 Join the  Technoclone Team who will be happy to meet you at their virtual booth !
They have made informal videos presenting our new Ceveron 100 Series instruments as well as a coffee talk on laboratory monitoring in hemophilia diagnostics.
Furthermore a brief video of the semi-automated analyzer Ceveron m is available and the possibility to receive a Technoclone ISTH T-shirt. Using the voucher in the virtual delegate bag.
There will also be a updated version of Technoclone's product catalog including all new products.
In addition to the virtual booth Technoclone will also present 4 posters, where each section will be explained by the member of our RnD department who has developed the test.
PB1876:Performance evaluation of a new fully automated fluorogenic ADAMTS13 activity assay; M. Lluisa
PB0728: Performance of a new automated FXIII activity assay; M. Leitner
PB0635: Performance evaluation of automated thrombin generation measurement on Ceveron t100 with normalized TGA parameters; L. Wagner
PB1585: Feasibility of a Universal Calibrator for Direct FXa inhibitor DOACs, N. Binder
As a highlight of the ISTH Technoclone are launching the new Ceveron s100 instrument as well as the TECHNOFLUOR Factor XIII and ADAMTS13 tests in our Product Theater on Tuesday, July 14th, 13:15 – 14:00 Eastern daylight time. Which means UTC-4.
Virtual Meeting Room
Welcome and Introduction; N. Binder
Ceveron s100 – the analyzer; M. Wolf
TECHNOFLUOR ADAMTS13 Activity – A Rapid Quantitative FRET ADAMTS13 Activity Assay; G. Moore
TECHNOFLUOR Factor XIII Activity – Fast, Accurate and precise; G. Moore
Single Platform Monitoring of Concentrates, ELHs and Non Replacement Hemophilia Therapies with Clotting, Chromogenic and Thrombin Generation Assays; G Moore
During the congress it is also possible to have virtual meetings with members of the Technoclone product management, customer service and research and development team!